News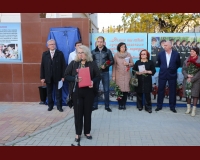 On November 8, 2016, in relation to the celebration of the 140th anniversary of Stepan Erzia, and together with the authorities of the hero city Novorossiysk..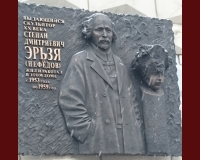 On February 3, 2015, the Erzia Art Foundation together with the Moscow Department of Culture inaugurated a memorial plate in Moscow at No. 3..
Our gallery
About CALYPSO Gallery and LOUVRE Art Salon
Calypso Art Gallery is the important area of the Foundation activities, recently becoming increasingly popular among the New Moscow dwellers. 
The Gallery is situated in a cozy premise of the modern beautiful house bearing the name of the legendary nymph glorified by sculptor Erzia in one of his best works – Calypso. In time between exhibitions, the Gallery exhibits the collection of the exclusive copies of Erzia sculptures. Thematic variety of exhibition is the fundamental strategy of our Gallery managers: from realistic art, classic painters to modern artists who create contemporary art. Here one can acquaint with young painters, sculptors, graphic artists and photographers, applied art masters and even with talented kids. Calypso Gallery has opened the doors to the great art for many beginning authors.
The Gallery display area (116 sq.m.) allows to arrange and hold interesting events for the audience of different classes, occupation and ages: chamber concerts, literary evenings, meetings with painters, press conferences, meet-the-artist events, jewelry exhibitions and applied art and hand-made fairs that have become popular in our time. The Gallery also works with disabled people, arranges charity auctions.
Artists of various trends give master classes in the Gallery, they coach kids and everyone who at any age wish to be introduced to the beautiful. We cooperate with those who revive the art of original interiors: interior and landscape designers, architects, florists and decorators.
There is an art salon called Louvre working at the Gallery. Here one can always buy a variety of materials for creative work, order a baguette and other types of artistic decoration, purchase paintings and other works by masters of different trends, as well as souvenirs and art literature. Our consultants will always give good advice, draw up an application, help choosing a present. Only the Erzia Foundation in Moscow can offer unique books about sculptor S.Erzia.
Calypso Art Gallery is located in New Moscow at:
142172, Moscow, Shcherbinka, 40 let Oktyabrya ul., 15/1
Phone/ Fax: +7 (495) 500-01-20
E-mail: info@erzia-fond.com
Website: http://erzia-fond.com
Facebook: https://www.facebook.com/erziafond
Exhibitions of Calypso Art Gallery
(2014-2017)
2014
05-22 December «Theater of Color»
Exhibition of members of the Podolsk branch of the Union of Russian Artists (painting)
---
2015
12-27 February «Patchwork Painting»
Personal exhibition of the member of the Union of Russian Artists, Vera Bobkova (patchwork technique and watercolor)
20 March–15 April «Magic Worlds»
Interregional exhibition of artistic works created by students and graduates of Petr Ryabov Children Artistic School No. 1 (Saransk): painting, graphics, applied arts
21 April–13 May «Traditions. History. Modern Times»
Exhibition of the youth section of the Podolsk branch of the Union of Russian Artists (painting, graphics, applied arts, sculpture)
14-28 November «Student Youth Exhibition»
Creative work of students from Moscow artistic colleges (painting, graphics)
05-27 December «Fleeting Impressions»
Exhibition of sketches by artists of COLORATUM artistic association (painting)
---
2016
06-17 February «Monkeys. Invasion»
Exhibition of sculptors Alexey and Olga Chepashov and their friends (sculpture, painting, graphics, digital art)
27 February – 12 March «Alone with Nature»
Personal exhibition of watercolor artist Alexander Vasiliev
19 March – 02 April «Uncertain Certainty»
Exhibition of avant-garde artists (Moscow)
28 April – 17 May «Wartime Photos»
Personal exhibition of Pavel Shtyrenko, a news photographer and participant of the Great Patriotic War
26 June – 31 July «We All Come from Childhood»
Exhibition of handmade toys
10-14 September «Wood Carving»
Personal exhibition of master carver Viktor Sudnov (to his 80th anniversary)
15-29 October «Rush of Time»
Personal exhibition of Larisa Davydova, Chairman of the Podolsk branch of the Union of Russian Artists (painting, graphics)
05-26 November «Graphics by Sculptors»
Exhibition of drawing by sculptors: Alexander Archipenko, Jacques Lipchitz, Osip Zadkine. From the private collection (Podolsk)
10-31 December «Russian Churches»
Personal exhibition of Sergey Belanov (graphics, painting)
---
2017
15-31 January «Solovki the Hymn of the White Sea»
Exhibition of the artistic group, Art Laboratory (graphics, painting, photos)
15-28 February «Russian Beauties»
Personal photo exhibition of Natalia Aksenova
4-25 March «Tomcats»
Thematic exhibition (painting, graphics, sculpture, batik)
8-29 April «Angels»
Thematic exhibition (painting, graphics, sculpture, batik, applied arts)
14-28 May «A lady sent in the van…».
Personal exhibition of Yulia Bolshakova and Ekaterina Rozanova (painting)
5 -30 June «Lovely Spots of Taurida»
Exhibition of the artistic group, Art Laboratory (graphics, painting)
15 September-12 October «The Story of a Cup»
Thematic exhibition (painting, graphics, applied arts)
15 October-2 November
Personal exhibition of Irina Shumskaya (painting and graphics)
5 November-25 November «That kingdom of mine is out of this world»
Personal exhibition of Olga Krotova-Sverchkova (graphics)
1 December - 31 January 2018
International project "Angels of the World"